Tanzania Honeymoon Safari
While Tanzania honeymoon safaris can be enjoyed by people of all ages, some activities may have age restrictions. It's essential to discuss your preferences and any concerns with your travel planner.
The Magic of Tanzania Honeymoon Safaris
A Tanzania honeymoon safari is the epitome of romance and adventure. Imagine stargazing under the vast African sky, surrounded by the sounds of nature, and waking up to stunning sunrises over the savannah. It's an enchanting experience that brings you closer to both nature and your partner. Epic Africa Adventure specializes in creating tailor-made safari itineraries that cater to the unique preferences of honeymooners, ensuring an unforgettable journey for every couple.
Why Choose Tanzania for Your Honeymoon?
Tanzania, known for its diverse landscapes and abundant wildlife, offers a perfect setting for a memorable honeymoon. From the iconic Serengeti National Park to the awe-inspiring Ngorongoro Crater and the picturesque beaches of Zanzibar, Tanzania has it all. This East African gem promises breathtaking views, thrilling wildlife encounters, and serene coastal escapes, making it an idyllic destination for honeymooners seeking adventure and relaxation.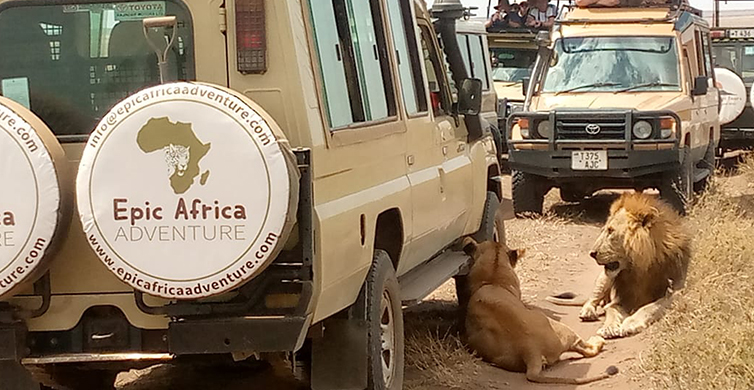 Planning Your Tanzania Honeymoon Safari
1. Choosing the Right Time
Tanzania offers fantastic safari experiences year-round, but the best time for your honeymoon will depend on your preferences. The dry season (June to October) is ideal for wildlife viewing, while the wet season (November to May) brings lush landscapes and fewer crowds.
2. Selecting Safari Destinations
Craft your dream honeymoon by exploring a variety of destinations. Serengeti National Park is a must-visit, famous for the Great Migration, where millions of wildebeest and other animals cross the plains. Add the Ngorongoro Crater, Tarangire National Park, and Lake Manyara to your itinerary for a complete safari experience.
3. Luxurious Accommodations
Treat yourself and your partner to luxurious accommodations that blend seamlessly with nature. Choose from elegant lodges, tented camps, and romantic treehouses, each providing an exclusive experience amidst the wild beauty of Tanzania.
4. Romantic Experiences
Enhance your honeymoon with romantic moments tailored to your preferences. Enjoy private bush dinners under the stars, hot air balloon safaris at sunrise, and leisurely beach days on the tropical island of Zanzibar.
5. Professional Guides and Safety
Epic Africa Adventure ensures your safety and comfort with experienced guides who possess an in-depth understanding of the wildlife and terrain. You can focus on creating memories while the experts handle all logistics.
Our Tanzania Honeymoon Safari Packages
Wildebeest Migration River Crossing
Duration: 8 Days
ENCHANTING TANZANIA SAFARI
Duration: 9 Days
The Wildlife Encounters
Tanzania's wildlife encounters are nothing short of extraordinary. From the majestic African elephant to the graceful cheetah, the iconic Big Five (lion, elephant, buffalo, leopard, and rhinoceros) and a plethora of other species thrive in their natural habitats here.
The Serengeti National Park is a prime location for witnessing the Great Migration, a spectacle where herds of wildebeest and zebras traverse the vast plains in search of fresh grazing lands. This awe-inspiring event is a once-in-a-lifetime experience that showcases the circle of life in the animal kingdom.
The Serenity of Ngorongoro Crater
The Ngorongoro Crater, a UNESCO World Heritage Site, is often referred to as the "Garden of Eden." It is a haven for wildlife, featuring a self-contained ecosystem with a stunning diversity of animals. Inside the crater, you can spot the endangered black rhinoceros, elephants, lions, and countless other species.
Exploring Tarangire National Park
Tarangire National Park is a hidden gem, renowned for its diverse landscapes and large elephant herds. The park's baobab-studded plains and the meandering Tarangire River create a breathtaking backdrop for wildlife viewing, especially during the dry season.
The Delights of Lake Manyara
Lake Manyara National Park is a birdwatcher's paradise, home to over 400 avian species. Pink-hued flamingos adorn the lake, while tree-climbing lions can be spotted in the woodlands. This compact park is perfect for a serene and intimate wildlife encounter.
Zanzibar: The Tropical Paradise
After the excitement of your safari, head to the picturesque island of Zanzibar for a relaxing beach getaway. The pristine white-sand beaches, crystal-clear waters, and vibrant culture make it an idyllic destination for honeymooners seeking romance and tranquility.
Embarking on a Tanzania honeymoon safari with Epic Africa Adventure promises an unforgettable journey filled with romance, adventure, and the wonders of the African wilderness. From witnessing the Great Migration in the Serengeti to exploring the unique ecosystems of the Ngorongoro Crater and Tarangire National Park, every moment is brimming with excitement.
Frequently Asked Questions (FAQs)
REQUEST A PRICE QUOTE
Drop us a line. Our experts will answer all your questions in 24 hours