Welcome to Epic Africa Adventure
Contact us to Start planning your trip
Almost everyone dreams of going to a safari in Tanzania, arguably the best safari destination in the world. To some, it's another tick off the bucket list; to others, it's a dream wildlife experience; and to some others, it's passion. Whatever the reason for traveling, there is always that inner anxiety on what to expect in a safari in Tanzania. Well, to ease up the suspense, here are the 9 things you can look forward to:The best safari parks in Tanzania and when to visit
1 DIVERSE LANDSCAPES
Tanzania is blessed with a widely diverse ecosystem that ranges from golden savannas and plains to mountains and forests to waterfalls and walled cities to islands that offer a tropical paradise of exquisite proportions. In a typical safari, you will be able to witness a glorious display of these landscapes. You will be able to drive through rough roads, some almost impassable during certain times, and you will be able to enjoy a striking natural scenery all throughout.The best safari parks in Tanzania and when to visit
One of the most visited parks that offers a unique landscape is the Ngorongoro Conservation Area. Its main highlight is the UNESCO World Heritage Site and Africa's "Garden of Eden", Ngorongoro Crater, which is a massive volcanic caldera that provides a safe haven to 25,000 large animals including 26 black rhinoceros and about 62 strong lions. Water is never scarce in the area and its gorgeous vistas just make it impossible not to be included in any African destinations checklist.
Another iconic attraction that boasts of a majestic landscape is Mount Kilimanjaro. It is Africa's highest peak and the world's tallest free-standing mountain. So if you are on a safari in Tanzania, it is wise to expect many different landscapes.
2 AMAZING WILDLIFE
Tanzania has always been popular for its impressive concentration and diversity of wildlife (and birdlife as well). It is normal to find a herd of zebras along with wildebeests in one corner and then a pride of lions or hyenas on another. In fact, many visitors have attested that the number of animals they saw on other safari destinations like South Africa in, say, 2 weeks is the number of animals they saw on a safari in Tanzania in merely 5 days!
You have to remember that a good guide is essential for a successful safari. Even though Tanzania is teeming with wildlife, the animals can still be hard to spot especially if you don't know where and how to look. Thanks to the drivers/guides/rangers, you will be able to go to "where the action happens."
One iconic wildlife event in Tanzania is the Great Wildebeest Migration, where millions of wildebeests, zebras, gazelles, and kudus move in a clockwise manner around the East African plains in anticipation of the rains and better grazing. This event happens all year-round so whatever month you visit the Serengeti, you will surely be able to experience this said migration as long as you have an experienced guide to navigate your tour.
The best safari parks in Tanzania and when to visit
3 LONG DRIVES AN EARLY START
Since each park is huge and you'll need some time to find a multitude of animals, you're going to be inside the safari vehicle for up to 4 to 5 hours. Most animals are super active early in the morning just before sunrise and so typically, your safari starts that early in the morning. 
You will be basked under the hot African sun for hours and because of the road's conditions, there will be a lot of bumping and bouncing around. Unlike in the zoo where animals are contained in one area, animals in Africa are free to roam anywhere. This means that if you are set to see lions, giraffes, zebras, cheetahs, and other animals, it might take some time. No worries, though, because the wilderness will always make you go wow. Also, there are so many bird species around Tanzania.The best safari parks in Tanzania and when to visit
4 CHANGING WEATHER
Tanzania is just near the equator so it only has two seasons: wet and dry. However, weather can be pretty much unpredictable, too. It is mostly sunny, yes, but some days, it's rainy. Sometimes rains can go as short as 5 minutes or a few hours, other times it can rain all day. Some days it's cold, other times it's hot and humid and some other days it's a blend of these temperatures. So prepare comfortable clothes, sunblock, a hat/cap and consider bringing a rainy gear. The best safari parks in Tanzania and when to visit
5 MINIMAL PHONE AND INTERNET COVERAGE
You cannot expect a marvelous phone coverage on a safari. Most areas, especially remote camps, offer zero mobile phone coverage. When it comes to internet connectivity, almost all camps and lodges (even the remote ones) have WiFi so you can still go online, check e-mails and post photos on social media platforms. However, internet connection can sometimes be intermittent or patchy so don't keep your hopes up if you want to stream a movie, play an online game or do something that requires loads of internet bandwidth.
6 FOOD QUALITY VARIES
Food in safaris is glorious! It's either you eat on your lodge/camp or dine among the animals in a picnic mat, a picnic table or even on your safari vehicle! You will have the schedule/itinerary beforehand so you would know what time your meals and snacks will be served. You also don't have to worry because chefs prepare your meals special and you can also ask for any diet restrictions you may have.
Food in the lodges are great but when you go on a safari, you bring a "lunchbox" where options can be limited as it has to last several hrs before being consumed. Typical options include sandwiches often white bread, fried foods (chicken), boiled egg and some fruits. But expect breakfast and dinner to make up for it as lodges often prepare both local and international cuisine and it is normally served buffet style so you're sure to have lots of options.
7 EXCITING ACTIVITIES FOR ALL TYPES OF TRAVELERS
Going in a safari doesn't only mean you only do the game driving and game viewing. There are other activities you can certainly enjoy as well, whether you travel solo, as a couple, or as a family/group! Unique add-ons include hot air balloon rides where you can float around iconic parks and spot incredible wildlife peppered across the plains; bonfires in the wild where you can chill and exchange stories with other fellow travelers; mountain trekking; and even an escape to the beach to cap off your African vacation!
8 RAW SENSE OF ADVENTURE
Being away from the city and in the heart of the wild, you will be surrounded by the amazing sounds of nature and at night, you will be able to experience "being close to the stars" as those twinkling lights appear to be just within your reach. Being here might have you exposed to tsetse flies and mosquitoes but that comes with the authentic experience.
When you're out on the road during your safari and nature suddenly calls, you can't expect a luxurious restroom in the middle of the wild, can you? Since there are no toilets around, you'll have to "do it in the bush." When you're in small charter flights, there will be no onboard toilet either. So, bring lots of toilet paper and a hand sanitizer!
Another thing that'll make you experience the wild is waking up to animal sounds. Most camps are strategically located near waterholes where animals congregate or around areas where herds gather around. Since animals are most active in the early part of the day, it is totally normal to experience waking up to some zebras by your terrace or hippos snorting by your window or even birds chirping.
During your game drives, you will be aboard a customized safari vehicle. Depending on your tour operator, you will be in closed safari vehicles which feature large windows and a pop-up roof; or in an open-sided safari vehicle which features a non-walled vehicle.
9 UNIQUE ACCOMMODATIONS
Depending on the type of accommodation you choose, you will be staying in an exclusive area in the wilderness where you will be surrounded by stunning vistas and freely roaming animals or you will be staying in camps/lodges that are strategically located along areas very accessible to wildlife encounters or attractions.
REMINDER: SOUTHERN VS NORTHERN SAFARI CIRCUITS
When we talk about safaris in Tanzania, we are usually referring to the safari parks in the northern part of the country and the ones in the southern region. The northern safari park is the more popular area which covers world-famous parks like Serengeti National Park, Ngorongoro Crater, Lake Manyara, Tarangire, and Mount Kilimanjaro.
Southern safari circuit, on the other hand, is the more remote area of Tanzania which usually offers a more raw and untouched landscape. Parks in this side of Tanzania include the renowned Selous Game Reserve as well as other huge parks like Ruaha National Park and Mikumi National Park.
TYPICAL SAFARI DAY
This is how a typical safari goes…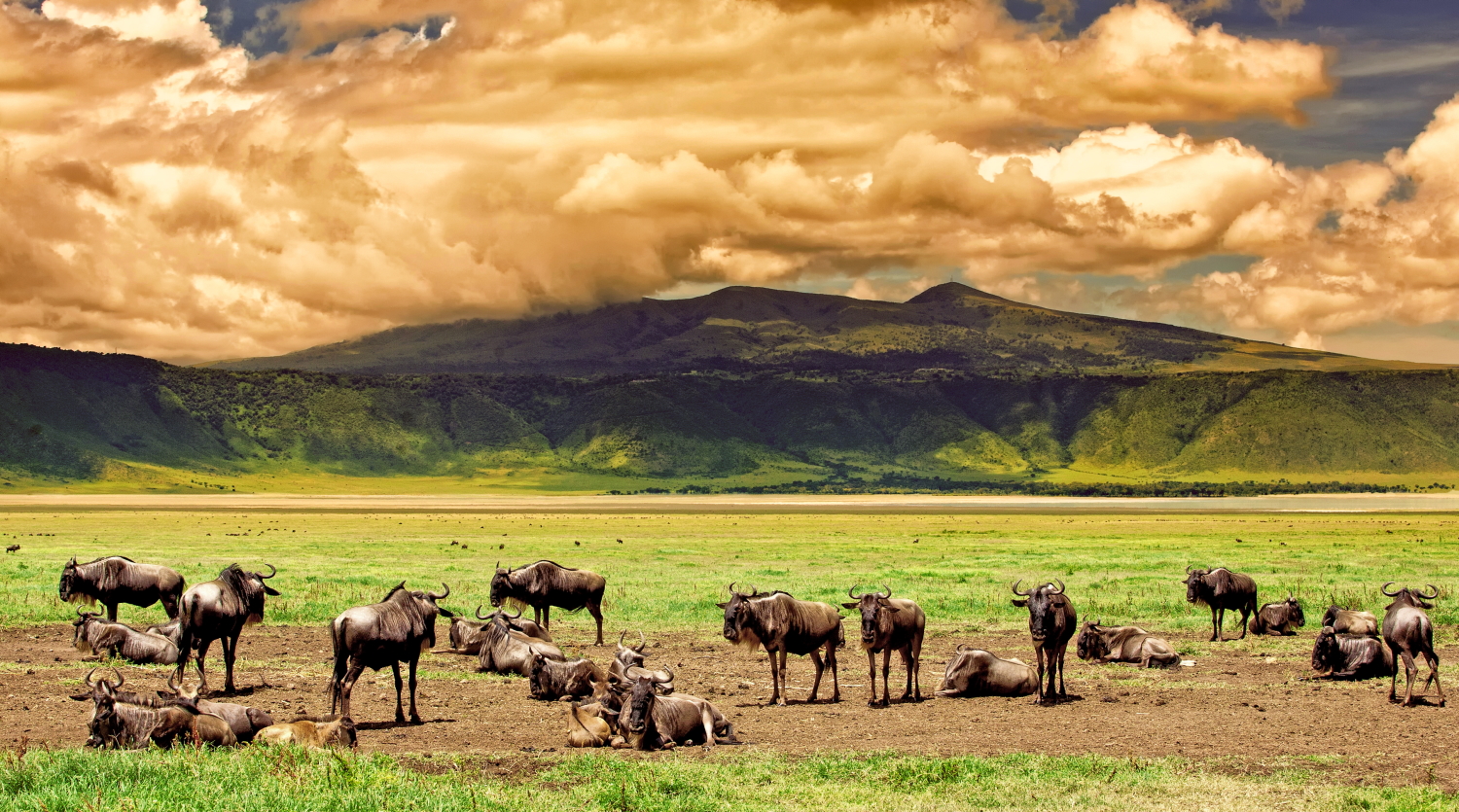 You wake up early in the morning and hear an interesting choir of animal sounds. Breakfast will be served at your chalet or at the common dining area of your camp/lodge. Sometimes, you will also have breakfast on the road (all food preparations will be handled by your tour operator). Then, you will start your day by driving to a wildlife sanctuary or park, enjoying a gorgeous sunrise slowly touching the savannah with the sun's golden rays.
Your guide/driver will take you to the most amazing spots to see beautiful vistas and spectacular animal sightings. If you're lucky, you can even catch predator-prey or predator-predator interactions. Come lunchtime, you will have a picnic in the bush. Food will again be prepared by a chef and you will be able to enjoy a hearty meal right in the heart of the wild.
After lunch, you will continue with your game drive to see more animals and beautiful sights and then finally arrive at your lodge/camp usually just before dinner. Dinner will then be served at the lodge and then you can either sojourn at your own room/chalet or you can join other travelers for a bonfire, a small gathering or a few drinks at the bar.
On other times, safaris can also end after lunch time and you can go back to your lodge early in the afternoon for your own leisure time. You can go biking, hiking, do some add-on activities or even just go to sleep!
A TANZANIAN SAFARI IS AN ADVENTURE OF A LIFETIME
No two adventures in Tanzania can ever be the same. In fact, even avid safari goers still find something surprising each time. So, while you can prepare for the basic essentials like what clothing, medicine, gear, and other paraphernalia to bring, you can never be fully prepared for whatever surprises will be coming your way during a safari. Nevertheless, a safari in Tanzania is truly one for the books and certainly something each person should experience.
Meet Good People
Get to know different people of Tanzania. You will be welcomed with a friendly faces once you plan Tanzania safari, ready to share with your their experiences and listen to yours.
Experience Wildlife
Discover the magic of Tanzania safari. Having more than 10 parks and game reserves. everything is a magical in your Tanzania safari trips. Just in three steps, You send us an email, We plan your tour, then you confirm.
STOPTROPHYHUNTINGNOW!
2022-09-07
Conservationist honeymooners say go with Epic Africa Adventure! Do you want a REAL Epic Africa Adventure, and at a reasonable price? Look no further, because Daniel, the owner of EAA, will organise everything you want. Be clear about the trip you want and the budget you have, and Epic African Adventure will try to put together an itinerary that will be perfect for you. After a lot of research, we found EAA to be the best for budget and accommodating everything we had asked for in our itinerary. We paid a little extra and had our own guide/driver, Damian, and Daniel made sure that we had everything we needed and was happy with everything throughout our 6-day Epic Africa Adventure.
Wonderful and memorable safaris Daniel and his team did everything exceptionally well, and provided a trip of a lifetime, with good value for money. From the airport pick-up, to the Serengeti, Ngorongoro, Olduvai, Tarangire, Manyara safaris, packed lunches and the extra mile, everything was great with Epic. The tour guides were professional and patient and we were booked into some of the best lodges that Serengeti had to offer. Such a memorable adventure!!
Perfect safari experience! Absolutely wonderful safari experience. Daniel was so helpful from when I first contacted him, his guide Aminiel was super knowledgeable, and his chef Richard was very kind! We felt very supported and looked after the whole way, the route was amazing, and we saw many incredible animals. Daniel is a trustworthy, reliable, and kind man - thank you so much for a perfect safari experience!
Amazing!!! The organisation was very quick from the beggining , also when I get there everything was as I expected, the guides very kind and telling us everything about the wild life and history , the food and the chefs were also amazing, I did it twice with them and i will do it again for sure! Thank so much for everything!!
Great!! Very good service. Daniel was very helpfull.Everything from picking me up at the AirPort drive me around the city
Amazing Trip We had wonderful 4 days in Safari with Daniel and his amazing guide Titho, visited Tarangire, ngorongoro, and Serengiti, we been lucky to see the big 5 and cheetah.The trip was well organised, even when we had comment on one of the hotels, Daniel took immediate action to keep us comfortable.Titho is an amazing guide with massive knowledge, answering all of our questions and doing the best to ensure you are satisfied and see all animals. The cost of the trip was the best we got as well after talking to many agencies.I would recommend Daniel and Titho for sure.
Wonderful Journey in Tanzania, Zanzibar & Safari Ngorongoro It begins when I started communicating with Mr. Daniel in planning stage, he was very patient and answered all my queries.Moreover, he suggested to hire a car baby seat to protect my infant who is a one year old.He suggested 2 accommodations on Safari and i selected non tent one coz i have 2 young kids.There was a lovely lady, chief who prepared many delicious tanzanian dishes , also Franc, who showed respect and love to us.For zanzibar trip, Mr. Danial hired 2 persons to accompany us in our small visits to many places, the driver Malik was very clever person he knows shortcuts and familiar with all places.
This wonderful trip will be remembered for life Very good trip. We liked the punctuality when meeting at the airport, the kindness, the desire of the guide to tell all the most interesting things about our route, to answer all the questions of interest, to adjust to our wishes during the tour. There were interesting stories about local residents, about traditions, about nature, about animals. The tour was wonderful.
Eduardo Videla
2019-10-23
Safari con una vivencia hermosa e increíble!!!! Translation in Spanish below / Traducción en Español al final;During our family trip, the first days of October we contacted Daniel a day before arriving in Tanzania to do the Safari. From that moment he treated us with excellence. He was waiting for us at the airport, he introduced us to the guides who would accompany us (the driver and a guide who spoke Spanish). The next day we began the three-day Safari through the Serengueri, Ngorongoro and Tarangire, the accommodation was spectacular and above all, the guides showed true passion for what they did. They treated us wonderfully, they were very friendly and respectful at all times. "Thanks Bariki and Cabila (the guides during the safari). We spent three amazing days.As if that were not enough, after the safari and without any interest Daniel assisted us and gave us great help to get a flight from Kilimanjaro to Zanzibar and coordinated the reception in Zanzibar. The words are not enough to thank you for how attentive and kind you were with us. Highly recommended "Epic Africa Adventure" to enjoy an unforgettable experience."" "" THANK YOU FOR EVERYTHING "" "!!!! Videla Family (Argentina)Durante nuestro viaje en familia, los primeros días de Octubre nos pusimos en contacto con Daniel un día antes de llegar a Tanzania para hacer el Safari. Desde ese momento nos trató con excelencia. Nos estaba esperando en el aeropuerto, nos presentó a los guías que nos acompañarían (el conductor y un guía que hablaba español). Al dia siguiente comenzamos el Safari de tres días por el Serengueri, Ngorongoro y Tarangire, el alojamiento fue espectacular y sobre todo, los guías demostraban verdadera pasión por lo que hacían. Nos trataron de maravilla, fueron muy amables y respetuosos en todo momento. "Gracias Bariki y Cabila (los guías durante el safari). Pasamos tres días increíbles.Como si eso fuera poco, luego del safari y sin ningún interés Daniel nos asistió y nos brindó una gran ayuda para conseguir un vuelo desde Kilimanjaro a Zanzibar y nos coordinó la recepción en Zanzibar. No alcanzan las palabras para agradecer lo atento y amable que fue con nosotros. Altamente recomendable "Epic Africa Adventure" para disfrutar de una experiencia inolvidable.""""MUCHAS GRACIAS POR TODO"""!!!! Familia Videla (Argentina)
Serengeti trip Epic adventure tour operator is Daniel, an extremely cooperative and caring person with his team of driver cum guide and cook both are superb in their fields.So, no second thought on recommending this tour company for a lifetime experience as serengeti.daniel can be contacted through WhatsApp on 255754886341.